ABOUT THE FOUNDER PARTNER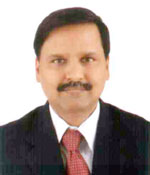 CA. Sriganesh Padmanabhan : B.Com, FCA, DISA(ICA),FAIA(UK), CR FA(US), CFIP(UK), CRF Acct. Proactive and result oriented CA with 25 years of Professional experience in auditing and consultancy.






PROFESSIONAL QUALIFICATIONS
Fellow member from Institute of Chartered Accountants of India; (FCA)
Fellow member from Association of International Accountants, United Kingdom. (FAIA)
ACA from Institute of Chartered Accountants England andWales.
Qualified Systems Auditor approved by Institute of Chartered Accountants of India (DISA)
Certified Forensic Investigation Professional awarded by IICFIP,
Professional Experience
Holds the credential of managing Four Offices in INDIA and Two Abroad Office.
Adept in development and implementation of Strategic and Financial Plans, Procedures and Policies,Internal Control Procedures, Statutory & other Audits, Cost Control Techniques etc to ensure Organizational growth.
In-depth knowledge on Accounting and auditing standards both India and international that includesIAS; GAAP (India & US), IFRS; etc.
Disciplined with proven abilities to manage multiple assignments efficiently under tight deliverydeadlines, ascertaining needs and goals, streamlining existing operations, envisioning new concepts andfuture trends and following through with development, direction and accomplishment.
Systematic and organized with quick adaptability to changing trends and processes and possessingexceptional interpersonal and presentation skills, comprehensive problem detection/ solving abilitiesand a highly analytical bent of mind thus being able to comprehend & explain complex financial dataeasily.
Adept in conducting audits, verification of operational efficiency levels, evaluating internal controlsystems with exposure of recommending necessary suggestions to improve internal controls of clients.
Key member in conducting AML & Operational Risk Workshop for Financial Institutions.